Home » Research & Technology » Biologics

Biologics Research

Regenerative Technology

Biologics research includes development of the infrastructure necessary for extracting, concentrating, and delivering regenerative cells to patients at the place and time at which the cells can provide the greatest benefit.

Autologous Transplantation

The goal of our regenerative cell research is to advance cell therapies that promote the healing or regeneration of the patient's own tissues, damaged by disease, age, or trauma, with the patient's own cells. Research & Technology efforts are directed toward autologous transplantation separating the cells from fat and giving them back to the same person. By using one's own cells, the recipient can avoid the problems of disease transmission and rejection associated with donor tissue.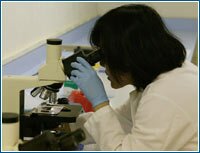 Min Zhu, MD Senior Research Scientist, examines regenerative cells under the microscope.

Micrograph of adipose (fat) tissue.


Eric J. Daniels, MD Clinical Applications Manager is shown in the biologics research laboratory.

Clinical Applications

Areas of research for the development of clinical applications for regenerative cell therapy include disorders of the nerve, muscle, bone, cartilage, and heart among others. We are dedicated to commercializing autologous cells to augment the body's natural healing process. In addition, we are working with researchers at many universities to develop applications and treatments using lipoaspirate (fat)-derived regenerative cells.



Micrographs of nerve, muscle, bone, and cartilage.