Research & Technology

Research & Technology is committed to expanding our biomaterials and biologics (regenerative cell) platform technologies to further enhance the body's natural healing process in the restoration, repair and regeneration of tissue, and to discover proprietary processes and technologies that facilitate the delivery of biologics (i.e., regenerative cells) and biological molecules (i.e., bone morphogenetic proteins).



"The body has a remarkable ability to heal itself, given the proper micro and macro environment..."

(Ralph E. Holmes, MD, Clinical Professor of Plastic Surgery, University of California, San Diego)


Biomaterials Technology




Bone defect shown packed with graft material contained by resorbable mesh and radiograph illustrating controlled containment.

Biomaterials research is focused on developing next generation bioresorbable devices, processes, and technologies that facilitate the repair and regeneration of bone and soft tissues. Next generation bioresorbable product development efforts include:


Focusing on structural adaptation of proprietary polymers to enhance performance in controlling postsurgical soft tissue adhesions.


Targeting development of new biomaterials and technologies with differing resorption or strength profiles to yield materials for alternative applications.


Formulating bioresorbable polymers that provide a range of handling characteristics to allow for significantly enhanced ease-of-use in the surgical setting.
Biologics (Regenerative Cell) Technology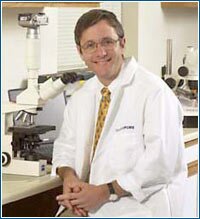 John K. Fraser, PhD Vice President, Research & Technology.


Micrographs of adipose (fat) tissue and regenerative cells from adipose tissue (blue stained).

Through the strategic acquisition of StemSource, and with the leadership of Dr. John K. Fraser, MacroPore Biosurgery is positioned to pursue regenerative therapies using autologous cells. Biologics research is focused on developing significant clinical applications for these cells in regenerative medicine. Regenerative technologies and biotherapies advancements include:


Introducing revolutionary devices to harvest regenerative cells from fat tissue.


Developing therapies and uses of regenerative cells through preclinical and in vitro studies.
In addition, the Research & Technology team is actively engaged in ongoing preclinical and in vitro studies demonstrating the regenerative capacity of cells.