Home » USA Products & Services


USA Products & Services

MacroPore Biosurgery's success is dependent on the quality of products and services we provide to the customer the hospitals that buy our products, the surgeons who use them and ultimately the patients who benefit from them. In-house Research & Technology, and product prototyping and manufacturing capabilities enable us to maintain immediate responsiveness to surgeons' needs.

Biomaterials Bioresorbable Polymer Implants

Building on the initial proprietary technology for hard tissue (bone) applications, MacroPore Biosurgery's spine and orthopedics business is focused on developing bioresorbable polymer implants for spinal fusion and spine graft fixation, as well as other musculoskeletal reconstructive applications.




Bioresorbable implants are used in conjunction with rigid fixation in certain spinal applications.

MacroPore Biosurgery has expanded its biomaterials platform technology in the area of bioresorbable thin films for soft tissue support applications. Bioresorbable films have clinical applications across multiple surgical specialties.




Bioresorbable thin films are used for soft tissue support, repair and reinforcement.

Biologics Regenerative Technology

The goal of adult stem cell research is to advance adult stem cell therapies that promote the healing or regeneration of the patient's own tissues, damaged by disease, age, or trauma, using the patient's own stem cells.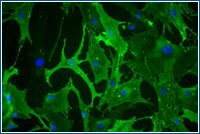 Micrograph of adipose (fat) tissue and adult stem cells from adipose tissue (blue stained).

In addition, MacroPore Biosurgery is pioneering autologous adult stem cell preservation and banking, offering the opportunity for people worldwide to bank their stem cells for their future personal use.