Home » Research & Technology » Biomaterials

Biomaterials Research

Bioresorbable Polymer Implants

As part of the evolution of biomedical technology, surgical implants have progressed from the use of permanent metallic implants, such as titanium, to the development of bioresorbable polymer implants made from materials similar to those naturally occurring in the human body. The use of bioresorbable lactide copolymers is supported with over 30 years of safe use in the body.

Material Biochemistry

Bioresorbable implants for both hard and soft tissue applications are made from Polylactide (PLa): a copolymer of 70:30 Poly(L-lactide-co-D,L-lactide). Composed of lactic acid similar to that which occurs naturally in the human body, the copolymer maintains its strength during the healing process, and through hydrolysis slowly breaks down into lactic acid molecules. The molecules are ultimately metabolized into carbon dioxide and water and are released from the body through the lungs.

The resorption process occurs in two phases: (1) H

2

O penetrates the implant, reacts with the polymer and breaks the polymer chains (hydrolysis); (2) hydrolysis converts the long chains into shorter chains until the polymer fragments into single lactic acid molecules. Lactic acid molecules are then metabolized by the liver into CO

2

and H

2

O and released through the lungs.

Bioresorbable Polymer Evaluation and Analysis



Kevin A. Thomas, PhD Director, Testing and Biomechanics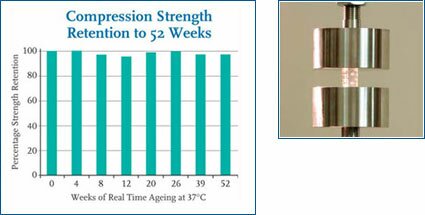 Compression strength retention graph and polymer compression test.

Directed by Dr. Kevin A. Thomas, assessment of the mechanical design and performance of our products includes specific evaluation and analysis of new materials, preclinical research projects, as well as ongoing studies of our platform polymer materials. While the majority of these evaluations are performed in-house, the Company also actively manages those that are performed elsewhere.

Bioresorbable Polymer Research



Susan L. Riley, PhD Manager, Polymer Research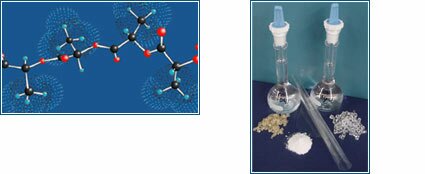 Illustration depicts molecular 3D model of L-D,L-lactide copolymer chain, and photograph shows raw polymer material, polymer solutions, and processed film.

The polymer research, managed by Dr. Susan L. Riley, includes analysis of bioresorbable polymer characteristics and the development of new polymer materials, technologies, and processes. Chemical characterization for current and future polymers includes, but is not limited to, molecular weight determination and thermal profiles. This research is targeted to develop new biomaterials with differing resorption profiles and formulate polymers that provide a range of handling characteristics to enhance the ease-of-use in the surgical setting.

Bioresorbable Polymer Characteristics
Bioresorbable, biocompatible and "biofriendly."
Application versatility designed for hard tissue (bone) and soft tissues.
Predictable resorption rate.
Translucent does not obscure radiographs or MRI/CT scans.
Strength appropriate for specific applications.
Clinical Applications for Bioresorbable Polymer Implants

Clinical applications include bioresorbable implants used for spinal fusion, bone graft containment, and other musculoskeletal reconstructive surgeries, and bioresorbable thin films to support or reinforce weakened soft tissue.

The Future of Bioresorbable Polymer Implants

Development of new biomaterials and technologies include differing resorption or strength profiles to yield materials, which further address unmet clinical needs. In addition to ENT" reconstruction film, indicated for preventing adhesions between the septum and nasal cavity, MacroPore Biosurgery is committed to develop advanced bioresorbable surgical films with expanded material characteristics and therapeutic functions that will facilitate and enhance the body's natural repair process.